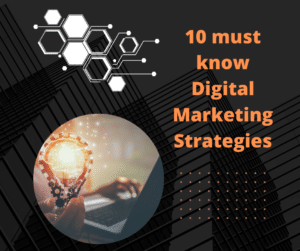 As a security company, you need to have a strong online presence to attract potential clients and generate leads. In this article, we will discuss the top 10 digital marketing strategies that can help you achieve these goals and improve your search engine rankings.
1. Introduction
Digital marketing is now an important part of promoting all kinds of businesses, including security firms. To stand out from your competitors and reach your target audience, you need a full digital marketing strategy with a variety of tactics.
2. Develop a Comprehensive Keyword Strategy
As part of a complete keyword strategy, you should research keywords to find the ones that are best for your business. These keywords should be incorporated into your website content, including your homepage, service pages, and blog posts, to improve your website's search engine ranking and attract targeted traffic.
3. Create a User-Friendly Website
Your website should be designed with the user in mind. It should be easy to navigate, visually appealing, and mobile-friendly. Your website's structure and layout should make it easy for potential clients to find the information they need quickly and efficiently.
4. Leverage the Power of Video Marketing
Video marketing is a good way to get your target audience interested and show off what you have to offer. Think about making videos that show off your services, include testimonials from happy customers, or teach people about the security industry.
5. Build an Email List and Use It Effectively
Email marketing is a powerful tool for generating leads and nurturing relationships with potential clients. Offer an incentive, such as a discount or free resource, to encourage website visitors to sign up for your email list. Use your email list to send regular newsletters, promotional offers, and updates about your services.
6. Use Social Media to Engage Your Target Audience
Social media is a good way to promote your services and reach your target audience. Find out which social media platforms your audience uses the most and make content that will appeal to them there. Use social media to build relationships with potential clients, answer questions, and address concerns.
7. Create High-Quality Content Regularly
Creating high-quality content is a must if you want to move up in the search engine rankings and get more targeted traffic to your website. Publishing blog posts, case studies, whitepapers, and other content that is useful to your target audience on a regular basis will help you become known as an expert in your field.
8. Optimize Your Website for Mobile Users
With more people accessing the internet on their mobile devices than ever before, it is crucial to optimize your website for mobile users. Your website should be designed to load quickly and be easy to navigate on smaller screens.
9. Use Local SEO to Boost Your Visibility in Local Search Results
If your security company only works in one area, local SEO is a must if you want to show up higher in local search results. Optimize your website's content and metadata to include location-specific keywords and create local business listings on Google My Business to be visible in your local area. 
10. Stay Up-to-Date with Industry Trends 
The digital marketing landscape is constantly evolving, and it's important to stay up-to-date with the latest industry trends and best practices. Attend industry events, participate in online forums, and follow industry thought leaders to stay ahead of the curve.
By using these 10 must-know digital marketing strategies, you can improve your search engine rankings, get more leads, and grow your security company. Don't forget to keep track of your results and change your strategy as needed to keep doing well.
In conclusion, digital marketing is an important part of the growth strategy of any successful security company. By using the 10 must-know digital marketing strategies listed above, you can improve your search engine rankings, get more leads, and grow your business.
At Grow My Security Company, we understand the unique needs and challenges of security companies when it comes to digital marketing. We are experts at making marketing plans for security companies that are designed to help them do well online. From SEO and PPC to social media and video marketing, our team has the expertise and experience necessary to help you achieve your digital marketing goals.
So, if you're ready to take your security company's digital marketing efforts to the next level, look no further than Grow My Security Company. Contact us today to learn more about how we can help your business grow and thrive online.